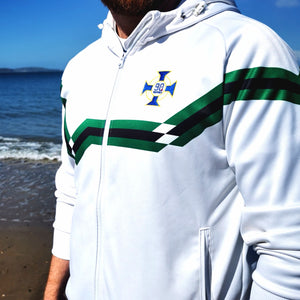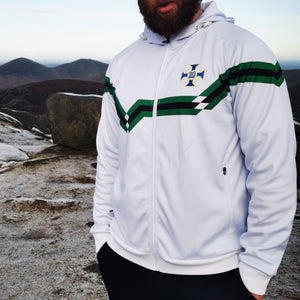 NIR 'Ups&Downs' Hooded Track Jacket
After the success of our first-release Northern Ireland-inspired 'Ups&Downs' jumper, we decided to bring you another piece inspired by the pattern made famous by West Germany.
This time we've gone for a full-zip hooded track jacket. Warm, practical and featuring the 'Ups&Downs' pattern across the chest, arms and back, this tracksuit top looks unique from every angle.
We like a small nod to our history and this top is no different, so just below the hood we have embroidered a small crest that you may recognise from a mid-70s Northern Ireland shirt worn by the one and only George Best.
Sizing: Available in UK S to XXL - fit is true to size
S: Chest 108cm, Length 66cm
M: Chest 112cm, Length 68cm
L: Chest 116cm, Length 70cm
XL: Chest 120cm, Length 72cm
XXL: Chest 124cm, Length 74cm
Material: 100% Polyester
Bulk/Personalisation Orders are available. If you would be interested in personalised items for your supporters club please contact us using the Contact Us form at the bottom of the page.